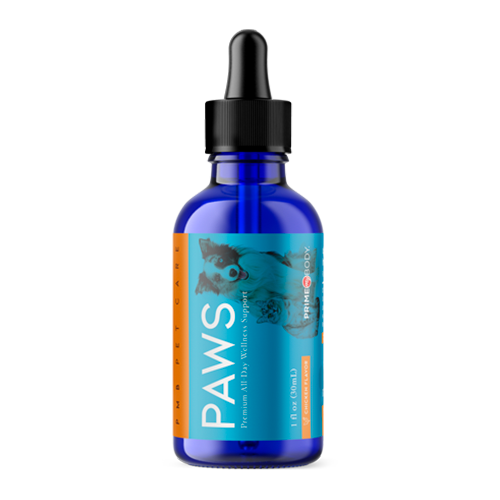 Share on
ESSENTIALS
PAWS
Pet Hemp Extract (30mL)
Helping Dogs & Cats Live Happier, Healthier Lives. Made with wholesome, natural ingredients, PAWS' advanced wellness formula works quickly to reduce pain and inflammation, lessen anxiety and skittishness, balance mood, and improve mobility for the cats and dogs who mean the world to you.
$59.00 USD
BENEFITS YOUR PETS CAN RELY ON
From wags to whiskers, PAWS naturally protects the health and vitality of your cat or dog. The combination of PAWS' hemp and wellness blends help support:
Discomfort Relief

Relief from skittishness & emotional and separation distress

Mobility & hip health

Alleviation of restlessness

Immune system function

Balanced energy & exercise stamina

Blood sugar stabilization

Healthy skin & coats
MADE FROM 100% ORGANIC INGREDIENTS. NON-GMO. GRAIN & SOY FREE.
To us, the ingredients we feed our pets matter. For their health and your peace of mind, PAWS is crafted exclusively with 100% organic ingredients packed with essential phytonutrients that benefit the specific physiology of our cats and dogs. Formulated with six holistic ingredients, each wellness component plays a synergistic part in maximizing your pet's health and invigorating their quality of life.
MCT OIL
As a carrier oil for PAWS' hemp and wellness components, MCT (Medium chain triglycerides) Oil increases bloodstream absorption rates. Instead of being metabolized in the stomach or small intestine, MCT is known to be processed via the liver, where its molecules can then be transitioned into energy rather than stored as fat.
LIPSOMAL NANO CURCUMIN
Found in the roots and bulbs of the Curcuma longa plant, curcumin is one of the most potent plant properties within turmeric. A central ingredient in PAWS, curcumin has been studied for decades to support joint and immune health, balance mood, and boost antioxidant levels in pets. Research has shown that liposomal nano curcumin is more effective than traditional curcumin as it increases absorption rates which helps to accelerate discomfort relief.
HEMP SEED OIL
While hemp seed oil doesn't contain cannabinoids, it does boast a number of health benefits for both cats and dogs. Hemp seed oil is nutrient-rich, containing an abundant amount of essential Omega 3, 6, and 9 fatty acids that support immune function, joint health and mobility, brain and cellular health, and keeping pets' skin and coats healthy and vibrant.
LIPOSOMAL NANO GLUCOSAMINE SULFATE
With age or pre-existing injuries, our pets' hip and joint cartilage can become compromised, leading to mobility and discomfort. Glucosamine sulfate, a primary molecule in healthy cartilage, helps to lubricate and cushion animal joints—providing relief from physical discomfort and improved mobility and strength. PAWS' liposomal nano glucosamine sulfate is emulsified into nano-sized liposomes that aid ultra-fast absorption rates into the bloodstream and greater cellular interaction.
FULL SPECTRUM HEMP EXTRACT
Because hemp's hundreds of compounds work better when they're together, we use 300mg of whole-plant, full spectrum hemp extract in PAWS. PAWS' synergistic combo of cannabinoids, terpenes and flavonoids produce a therapeutic entourage effect. This entourage effect is known to encourage a cascade of benefits like stress and discomfort relief, balanced energy, and a peaceful calming effect.
CHICKEN FLAVORING
Whether it's a supplement for humans or pets, taste is essential. PAWS' organic and natural chicken flavor has been taste tested by dogs and cats with 100% palatability results for both.
"Any time you use hemp in a whole plant-based form and you don't break it apart, you're going to have a lot more benefit from it in its natural state."
Dr. Marlene Siegel
PrimeMyBody Veterinarian Medical Advisor
"The PAWS formulation contains a powerful blend of ingredients that separate it from every other cannabinoid pet product on the market. Its unique ingredient makeup is the reason PAWS is, in my opinion, the most superior hemp wellness product designed specifically for pets."
Dr. Marlene Siegel
PrimeMyBody Veterinarian Medical Advisor
HOW PETS BENEFIT FROM HEMP
Just like you, your pet has an endocannabinoid system (ECS) that maintains balanced health and optimal well-being. Connected by receptors that are present throughout your pet's body, the ECS influences and stimulates many body functions and processes, including immunity, mood and emotional balance, discomfort perception, sleep, and optimal organ function.
Sourced from organically grown industrial hemp, the full spectrum cannabinoids, terpenes, and flavonoids in PAWS boosts and activates your pet's ECS system—promoting optimum health and enhanced quality of life.
DON'T LET YOUR PETS' BEST DAYS BE BEHIND THEM
PAWS is an excellent wellness support supplement for happy, healthy pets, and is equally beneficial for our furry friends that may be experiencing health declines and abnormal physical or emotional behaviors. Oftentimes our dogs and cats don't communicate when they are in physical discomfort or emotional distress.
Shorter walks or runs

A general "slowing down"

Difficulty getting up or sitting/laying down

Limping or awkward gait

Hiding, reclusive behavior, or uncommon urinating habits

Prolonged crying or whining
RESEARCH SHOWS PETS ARE LIKE SPONGES...
Our pets feel and feed off our emotions. When we're happy, they're happy. When we feel stress, they feel that uneasiness right along with us. With pure ingredients proven to ease distress and uncomfort, PAWS supports your pet's emotional health on your good days and bad.
Source: How Your Pet Feels Your Stress
VETERINARIAN RECOMMENDED. PET APPROVED.
PAWS is beneficial and effective for dogs and cats older than 12 months.
Suggested Use: Place extract on your companion's food during every meal or as directed by a veterinarian. Use 0.25mL (quarter dropper) per 10 lbs of body weight. For animal use only.
300mg
FULL SPECTRUM HEMP EXTRACT PER BOTTLE
CHICKEN FLAVOR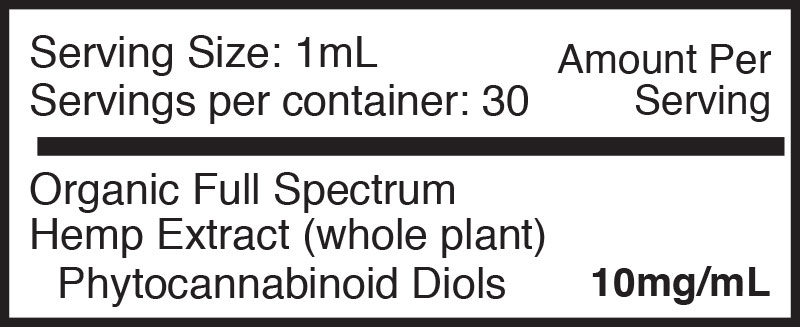 Other Ingredients: Organic MCT Oil, Organic Liposomal Curcumin, Organic Liposomal Glucosamine Sulfate, Organic Hemp Seed Oil, MSM, Organic Chicken Flavor, Organic Infused Catnip with MCT Oil
THEY'RE MORE THAN PETS, THEY'RE FAMILY™
Trending PrimeMyBody Products
PHYTO ADRENAL
GLANDULAR ADRENAL SUPPORT
MANAGE & REDUCE STRESS
BOOST YOUR ENERGY BOTANICALLY
CONTROL WEIGHT

ORIGINALLY

: $39.00

DISCOUNT

: $20
$39.00 USD
this product does not count towards your bundle discount total
DREAM
Delta-8 Sleep Gummies
Shortens sleep latency
Soothes mental stress
Achieve REM sleep faster

ORIGINALLY

: $69.00

DISCOUNT

: $10
$69.00 USD
this product does not count towards your bundle discount total
NOX
NITRIC OXIDE + HEMP SKIN REJUVENATION
Full Spectrum Hemp Extract
Clearer, Smoother Skin
Dissolve Fine Lines & Wrinkles

ORIGINALLY

: $75.00

DISCOUNT

: $34
$75.00 USD
this product does not count towards your bundle discount total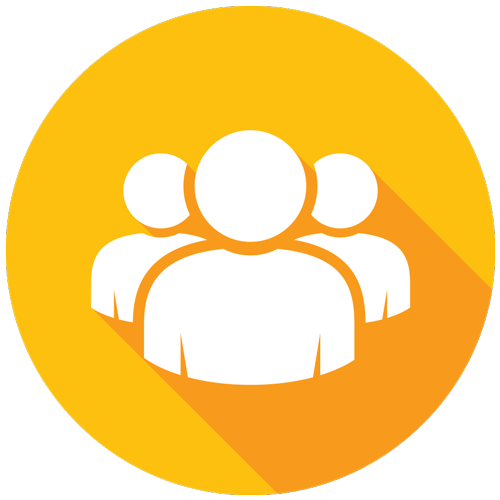 HAVE QUESTIONS?
Fill out the form and this member will reach out to you: Jennifer DePinto